Marian Smoluchowski Medal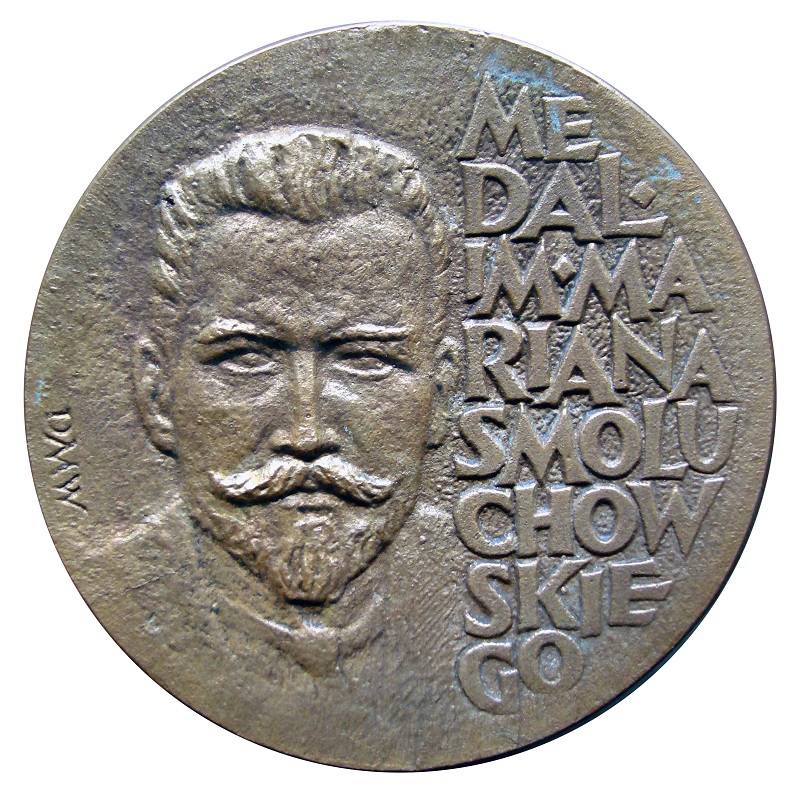 It is the highest decoration awarded by the Polish Physical Society for scientific achievements in the field of physical sciences.
The medal can be awarded to both Polish and foreign scientists.
Marian Smoluchowski (1872-1917) was a classic of statistical physics. He conducted research into the explanation of Brownian motion. Albert Einstein used his results to formulate a theory explaining the chaotic motions of particles. One of the equations of diffusion theory is known as the Smoluchowski equation. On July 15, 1917, he was elected rector of the Jagiellonian University. The Institute of Physics of the Jagiellonian University is named after him. By the decision of the International Astronomical Union in 1970, one of the craters on the moon was named Smoluchowski.
Chapter of the Marian Smoluchowski Medal
Regulations of the Marian Smoluchowski Medal
Laureates of the Marian Smoluchowski Medal
2023 Ryszard Horodecki (Gdańsk)
2021 Iwo Białynicki-Birula (Warszawa)
2019 Józef Spałek (Kraków)
2017 Jerzy Lukierski (Wrocław)
2015 Henryk Szymczak (Warszawa)
2013 Jan Misiewicz (Wrocław)
2012 Douglas Cline (Rochester)
2011 Krzysztof Pomorski (Lublin)
2010 Tomasz Dietl (Warszawa)
2009 Wojciech Żurek (Los Alamos)
2008 Józef Barnaś (Poznań)
2007 Robert R. Gałązka (Warszawa)
2005 Jan Żylicz (Warszawa)
2003/04 Andrzej Białas (Kraków)
2003/04 Stefan Pokorski (Warszawa)
2002 David Shugar (Warszawa)
2001 Aleksander Wolszczan (Toruń, Uniwersytet Stanu Pensylwania)
2000 Bohdan Paczyński (Princeton)
1999 Andrzej Kajetan Wróblewski (Warszawa)
1998 Kacper Zalewski (Kraków)
1997 Włodzimierz Zawadzki (Warszawa)
1994 Ryszard Sosnowski (Warszawa)
1993 Stanisław Kielich (Poznań)
1992 Arnold Whittaker Wolfendale (Durham)
1991 Jacek Prentki (Paryż, Genewa)
1990 Władysław Świątecki (Berkeley)
1989 Zdzisław Szymański (Warszawa)
1988 Andrzej Hrynkiewicz (Kraków)
1987 Wojciech Królikowski (Warszawa)
1986 Andrzej Trautman (Warszawa)
1985 Joseph Henry Eberly (Rochester)
1984 Witalij Łazarewicz Ginzburg (Moskwa)
1983 Jan Rzewuski (Wrocław)
1982 Władysław Opęchowski (Vancouver)
1981 Adriano Gozzini (Piza)
1980 Ben R. Mottelson (Kopenhaga)
1979 Włodzimierz Trzebiatowski (Wrocław)
1977 Victor Frederick Weisskopf (Cambridge, USA)
1976 Arkadiusz Henryk Piekara (Warszawa)
1975 Gerald Leondus Pearson (Stanford)
1974 Georgij Nikołajewicz Florow (Dubna)
1973 Subrahmanyan Chandrasekhar (Chicago)
1972 Leonard Sosnowski (Warszawa)
1970 Jerzy Gierula (Kraków)
1970 Marian Mięsowicz (Kraków)
1969 Marian Danysz (Warszawa)
1969 Jerzy Pniewski (Warszawa)
1968 Aleksander Jabłoński (Toruń)
1965 Wojciech Rubinowicz (Warszawa)